Product Solution
Dynamesh DYNABOND Activator
dynamesh dynabond activator
Dynamesh DYNABOND Activator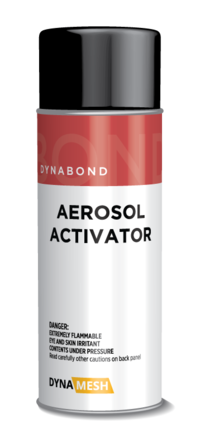 FREE SHIPPING ON NEW ADHESIVE ORDERS*
DYNABOND Activator is an adhesive primer designed to work in conjunction with cyanoacrylate adhesives such as DYNABOND Super Adhesive. It "primes" or activates the adhesive to form a quick and permanent bond. It also ensures consistent curing each and every time.
In particular, the DYNABOND Activator 10 oz aerosol spray helps eliminate "surges" associated with pump spray products that can contribute to overlaps and missed spots, weakening the bond.
Features
Shelf life of over a year
Contains no ozone-depleting compounds
VOC Compliant CARB/OTC
Will cure bonds between mesh and wooden or metal frames
Purchasing Options
Available in

8 Ounce Pump Spray, 10 Ounce Can, 1 Quart Sizes
Free shipping offer only valid for DYNABOND and RhinoTech adhesive products. Must be either a new customer, or an existing customer ordering adhesive products for the first time. Some additional restrictions may apply. Contact your sales person for more details and to order. [return]
| Product SKU | Description | U/M | List Price |
| --- | --- | --- | --- |
| SKUADH-D-ACTIVATOR-Q | DESCDYNABOND ACTIVATOR 1 QUART | U/MEA | LIST PRICE$17.60 |
| SKUADH-D-ACTIVATOR-8 OZ | DESCDYNABOND ACTIVATOR 8 OZ PUMP SPRAY | U/MEA | LIST PRICE$8.70 |
| SKUADH-D-AEROSOL ACTIVATOR-10 OZ | DESCDYNABOND AEROSOL ACTIVATOR 10 OZ SPRAY CAN | U/MEA | LIST PRICE$11.50 |
| SKUADH-D-BOTTLE/PUMP TOP 8 OZ | DESCDYNABOND EMPTY 8OZ ACTIVATOR BOTTLE + PUMP TOP | U/MEA | LIST PRICE$2.70 |
Information and pricing current as of 3/22/2021
Questions? Interested in purchasing?
Call (800)235-5056 or
click here
to contact us about this product.