Product Solution
Mesh
mesh
Which mesh is right for your application?
Products Filtered By:
Application
Mesh selection is very important to the screen printing process. Let us help you select the correct mesh for your specific application. Explore the various lines of mesh that we offer below, or contact our customer service or your Technical Sales Representative for more personalized help.
NBC Mesh Inspection Tag

Every roll of NBC polyester mesh is supplied with an inspection tag. While flaws are kept to a minimum by careful quality control, any flaw found under our thorough inspection is clearly marked to prevent it being stretched into your image area.
Thickness and mesh count are precisely controlled and documented on the tag—critical information for setting your production standards. As a result, you'll be able to keep your presses running and save time spent troubleshooting. In addition, NBC compensates for flaws by adding one half yard of mesh to the end of the roll free of charge for each flaw.1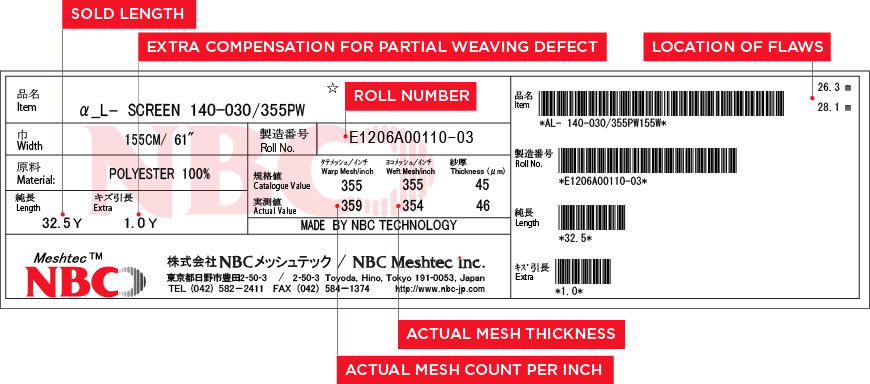 Any marked flaws within an 18″ space are considered to be one flaw and compensated with a ½ yard of material. Each flaw is clearly marked on the selvage edge with a red triangle on a blue pressure sensitive label.[return]
Mesh Tension Guide
| MESH CODE | MESH COUNT /in (±3) | MESH COUNT /cm (±3) | THREAD DIAMETER µm | WARP BREAKING TENSION N/cm² | WEFT BREAKING TENSION N/cm² | STANDARD TENSION N/cm² (60% of breaking tension) | ADVANCED TENSION N/cm² (70% of breaking tension) | EXPERT TENSION N/cm² (90% of breaking tension) |
| --- | --- | --- | --- | --- | --- | --- | --- | --- |
| 508 -024 TW | 508 | 200 | 24 | 28.2 | 27.7 | 16 | 19 | 25 |
| 508 -027 TW | 508 | 200 | 27 | 39.9 | 37.2 | 22 | 26 | 33 |
| 460 -027 PW | 460 | 180 | 27 | 30.5 | 30.6 | 18 | 21 | 27 |
| 420 -027 PW | 420 | 165 | 27 | 31.6 | 29.4 | 18 | 21 | 27 |
| 420 -030 PW | 420 | 165 | 30 | 41.8 | 39.9 | 24 | 28 | 36 |
| 380 -027 PW | 380 | 150 | 27 | 30 | 30.7 | 18 | 21 | 27 |
| 380 -030 PW | 380 | 150 | 30 | 34 | 39 | 22 | 26 | 33 |
| 380 -033 PW | 380 | 150 | 33 | 40.9 | 42.7 | 25 | 29 | 38 |
| 380 -035 TW | 380 | 150 | 35 | 50 | 50 | 30 | 35 | 45 |
| 355 -027 PW | 355 | 140 | 27 | 27.4 | 25 | 16 | 18 | 24 |
| 355 -030 PW | 355 | 140 | 30 | 36 | 36.7 | 21 | 25 | 32 |
| 355 -035 PW | 355 | 140 | 35 | 45.3 | 46 | 27 | 31 | 40 |
| 330 -027 PW | 330 | 130 | 27 | 26.3 | 24.7 | 15 | 17 | 22 |
| 330 -030 PW | 330 | 130 | 30 | 32.7 | 33 | 20 | 23 | 30 |
| 330 -035 PW | 330 | 130 | 35 | 45.3 | 43.1 | 26 | 30 | 38 |
| 315 -027 PW | 315 | 125 | 27 | 26.2 | 25.6 | 15 | 18 | 23 |
| 315 -030 PW | 315 | 125 | 30 | 33.8 | 31 | 18 | 21 | 28 |
| 305 -030 PW | 305 | 120 | 30 | 30.2 | 30.5 | 18 | 21 | 27 |
| 305 -033 PW | 305 | 120 | 33 | 35.6 | 36 | 21 | 25 | 32 |
| 305 -035 PW | 305 | 120 | 35 | 41.7 | 43 | 25 | 30 | 38 |
| 305 -040 PW | 305 | 120 | 40 | 50 | 50 | 30 | 35 | 45 |
| 280 -035 TW | 280 | 110 | 35 | 38.5 | 36.7 | 22 | 26 | 33 |
| 270 -040 PW | 270 | 106 | 40 | 45.4 | 46.2 | 27 | 31 | 40 |
| 255 -035 PW | 255 | 100 | 35 | 37.8 | 36.4 | 22 | 26 | 33 |
| 255 -040 PW | 255 | 100 | 40 | 42.3 | 42 | 25 | 29 | 37 |
| 230 -040 PW | 230 | 90 | 40 | 40.4 | 38 | 23 | 27 | 34 |
| 230 -045 PW | 230 | 90 | 45 | 50 | 50 | 30 | 35 | 45 |
| 225 -048 PW | 225 | 88 | 48 | 50 | 50 | 30 | 35 | 45 |
| 200 -045 PW | 200 | 79 | 45 | 42.2 | 43.6 | 25 | 29 | 38 |
| 200 -048 PW | 200 | 79 | 48 | 47.1 | 46 | 27 | 32 | 41 |
| 200 -055 PW | 200 | 79 | 55 | 44 | 43.3 | 26 | 30 | 39 |
| 180 -048 PW | 180 | 71 | 48 | 42.4 | 42.4 | 25 | 29 | 38 |
| 180 -055 PW | 180 | 71 | 55 | 43.5 | 43.7 | 26 | 30 | 39 |
| 160 -048 PW | 160 | 63 | 48 | 38 | 40 | 22 | 26 | 34 |
| 160 -063 PW | 160 | 63 | 63 | 44 | 43.5 | 26 | 30 | 39 |
| 150 -048 PW | 150 | 59 | 48 | 30.8 | 31.9 | 18 | 21 | 28 |
| 150 -048 PW | 150 | 59 | 48 | 33.3 | 32.5 | 19 | 22 | 29 |
| 150 -055 PW | 150 | 59 | 55 | 44.6 | 44.6 | 27 | 31 | 40 |
| 140 -063 PW | 140 | 63 | 63 | 41 | 44.4 | 24 | 28 | 37 |
| 135 -045 PW | 135 | 53 | 45 | 26.6 | 26.2 | 15 | 18 | 23 |
| 135 -048 PW | 135 | 53 | 48 | 29.3 | 29 | 18 | 20 | 26 |
| 135 -055 PW | 135 | 53 | 55 | 33.5 | 35.5 | 21 | 24 | 31 |
| 125 -071 PW | 125 | 49 | 71 | 42.2 | 42.1 | 25 | 29 | 38 |
| 120 -045 PW | 120 | 47 | 45 | 21.6 | 23.8 | 12 | 14 | 19 |
| 120 -048 PW | 120 | 47 | 48 | 30.4 | 28.1 | 17 | 20 | 25 |
| 120 -055 PW | 120 | 47 | 55 | 28.8 | 30 | 18 | 21 | 26 |
| 120 -063 PW | 120 | 47 | 63 | 44.6 | 43.7 | 26 | 31 | 40 |
| 110 -080 PW | 110 | 43 | 80 | 43.8 | 43.3 | 26 | 30 | 39 |
| 100 -055 PW | 100 | 39 | 55 | 27.7 | 29.4 | 17 | 20 | 26 |
| 100 -071 PW | 100 | 39 | 71 | 45.3 | 45.3 | 27 | 32 | 41 |
| 100 -071 PW | 100 | 27 | 71 | 36.3 | 36.5 | 22 | 25 | 33 |
| 90 -071 PW | 90 | 35 | 71 | 44 | 42.7 | 26 | 30 | 39 |
| 90 -080 PW | 90 | 35 | 80 | 44.4 | 44.3 | 27 | 31 | 40 |
| 80 -071 PW | 80 | 31 | 71 | 43.2 | 43.2 | 26 | 30 | 39 |
| 80 -100 PW | 80 | 31 | 100 | 45.3 | 45.5 | 27 | 32 | 41 |
| 60 -125 PW | 60 | 24 | 125 | 45.4 | 46.2 | 27 | 32 | 41 |
| 60 -150 PW | 60 | 24 | 150 | 50 | 50 | 30 | 35 | 45 |