Product Solution
Grünig G-COAT 414 Coating Machine
grünig g-coat 414 coating machine
Grünig G-COAT 414 Coating Machine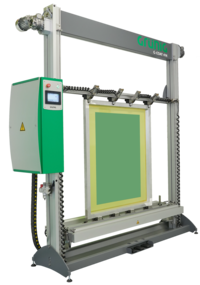 The G-COAT 414 is a newly developed automatic coating machine designed to be flexible and economical. It features a light yet solid design and a simple operating concept.
The G-COAT 414 is available in a range of sizes, supporting screens from 47″ H x 39″ W (1200 x 1000 mm) to 79″ H x 79″ W (2000 x 2000 mm). In smaller sizes, it is available as a "Plug & Coat" system—simply unpack, setup, and start coating.
Coating is possible from one side or both sides simultaneously using the included G-COAT 401 coating trough. All coating parameters can be quickly and easily programmed through the control panel, including the pneumatically controlled contact pressure and forward-tipping motion of the coating trough. The coating process itself is extremely smooth and nearly silent, thanks to special sliding guides and a toothed belt drive unit.
The G-COAT 414 is ergonomically well-designed, with three integrated foot pedals for controlling the screen tie-bar and pneumatic stretchers, and an individually adjustable screen support that brings even small screens up to a comfortable height.
Features
Screen holders are designed to handle frame profile thicknesses between 0.8″ and 1.6″ (20 - 40 mm)
Advanced automation technology and tight tolerances enable a high degree of reproducibility
An integrated measuring system detects frame profile height and precisely controls coating positions
Coating parameters, including programmable settings, are controlled via a touchscreen interface
Product Options
Option MD

"Maintenance Diagnostic" feature enables error analysis and remote maintenance assistance by Grünig

Option Z

Additional screen supports for simultaneous coating of two screens
Request a Quote
Please submit the following form, and a representative will contact you about a quote as soon as possible.